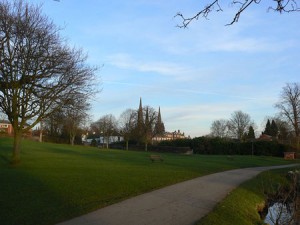 Work to turn Beacon Park's overgrown woodland jungle into a traditional woodland wonderland is starting this autumn.
Throughout September and October, Lichfield District Council will be removing around 80 trees from Beacon Park's woodland area.  
The trees are being thinned as part of the council's plans to create a more traditional woodland habitat full of native trees, shrubs and wildflowers.
The improvements are part of the restoration work to Beacon Park, which are being part funded by the Heritage Lottery Fund and Big Lottery Fund grant.
Councillor Val Richards, Cabinet Member for Leisure Services, said:
"At the moment our woodland area is totally overgrown, which means the shade from the trees prevents native shrubs and woodland flowers from growing. This is why we are removing a number of trees so that, in the winter of 2010, we can start to replant the wood with native trees and traditional wildflowers, such as bluebells and wood anemones. We hope the improved woodland will encourage more wildlife, and will be a lovely area for park visitors to discover."  
The woodland work has been agreed by the Forestry Commission and will be carried out by The Forest of Mercia.