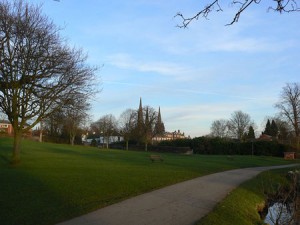 Two events in Lichfield are set to help celebrate Love Parks Week.
The annual campaign, which runs from July 23 to 31, is organised by the charity GreenSpace and encourages people to enjoy their local parks.
To mark the week Lichfield District Council is holding two activities, the first being a summer tree walk which sets off at 11am on July 27.
Led by the council's tree expert, this is a gentle walk through Lichfield to find out more about the city's most interesting trees.
Gareth Hare, Lichfield District Council's arboricultural officer, said:
"Please join me for a walk through picturesque Lichfield. It is your chance to find out more about our city's beautiful and historic trees, as well as the uses of some of the species."
The Summer Tree Walk costs £2.50. To book your place, call Ruth Witczak on 01543 308869 or email ruth.witczak@lichfielddc.gov.uk.
The second activity is bird box painting at Beacon Park. on July 30 between 10am and 3pm.
Ruth Witczak, community & education officer, said:
"We hope lots of people come and have a go at bird box painting. It's your chance to decorate a bird box and take your masterpiece home with you, so you can put it up in your garden."
Painting a bird box costs £3.50. There is no need to book, just turn up at Beacon Park's main pavilion (Swinfen Broun Pavilion). Children under 16 years of age must be accompanied by an adult.