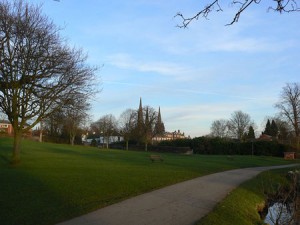 Lichfield residents are being invited to visit Beacon Park and learn more about a £3.9million heritage makeover.
Come to Beacon Park this Friday (31 July), from 1pm to 2.30pm, and follow a trail to find out more about the £3.9 million heritage makeover
The funding was from the Heritage Lottery Fund (HLF) and Big Lottery Fund's (BIG) Parks for People programme and means Lichfield District Council's plan to transform and regenerate Beacon Park, the Garden of Remembrance and Minster Pool and Walk, will be turned into a reality.
As part of Love Parks Week, the council is offering local people and visitors to the city the chance to find out how three of the city's much loved attractions will be improved.
Everyone is welcome to pick up a free trail guide from the Golf Hut in Beacon Park, the City Council House, or download a copy from the council's website www.lichfielddc.gov.uk/parks.
Beth Osman, Heritage Parks Manager, said:
"It's important that everyone who uses and loves Beacon Park, the Garden of Remembrance and Minster Pool Walk is kept informed about their future improvements. This is why we're hoping lots of people will come along on Friday between 1pm and 2.30pm to follow the trail which will take them to various key spots that will be getting the makeover treatment soon. There will be various people, who are involved in the project, placed at the different locations, who will be able to explain the plans in more detail."
The trail starts off from Beacon Park's Golf Hut where there will be someone handy to talk about the new café, improved crazy golf and the woodland works. There will also be a chance to find out how nature lovers can volunteer to get involved with conservation work.
The trail will also guide visitors to the planned improvements of the play area, pavilion, the new educational and community resources, and the Museum Gardens – where lots of restoration work will be taking place, including restoring the beautiful fountain back to its former glory.
The trail then takes explorers over the road to the Gardens of Remembrance to discover about the restoration of the monuments. It then guides walkers on to Minster Pool and Walk to find out about new seating, tree works, repairing the bank and much more.
The improvement work is expected to start in late autumn, and should be completed in 2011. Care will be taken to make sure visitors can still access as much of the parks as possible. Lichfield District Council will keep park visitors up to date with each phase of the works.